Banner Advertisements
From Market Ruler Help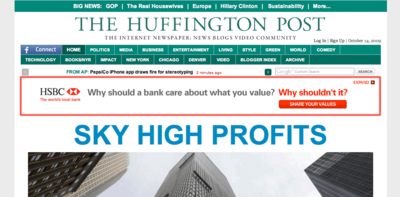 Banner Advertisements are web-based advertisements which are often found at the top of a web site and are shaped similarly to a real-world banner.
Banner Advertisements were more popular prior to the advent of Text Advertisements which were popularized by what is now Yahoo! Search Marketing (formerly Overture and GoTo.com.)
Banner Advertisements are typically purchased on a Pay-Per-Impression or Pay-Per-Mille basis.
See Image Advertisements.
Product Support
ConversionRuler can tracking any Banner Advertisement by setting up a Landing URL such as:
http://www.example.com/landing-page.html?crcat=banner&crsource=from-domain.com&crcampaign=the+campaign&crkw=banner+ad+type

Which would categorize the inbound link as:
Category: banner
Source: from-domain.com
Campaign: the campaign
Segment: banner ad type