Conversion action list
From Market Ruler Help
This feature is only available in release 1.9.10, released October 2016.
The conversion action list shows the currently registered Conversion Actions for the currently selected Site. From this view, you can review:
The valid Code used to submit the action to ConversionRuler
The name of the conversion action used in the reports
A description of the action (for your own purposes)
Whether the action records commerce or reference information
The order that actions appear in reports
Optionally, you can also review the visibility of each action by selecting from the filter at the top of the list: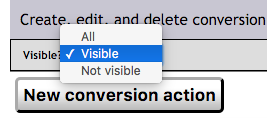 When the All filter is selected you can then change the visibility of various Conversion Actions. This is useful when you wish to exclude their display in reporting, or ignore actions which are no longer relevant to your site.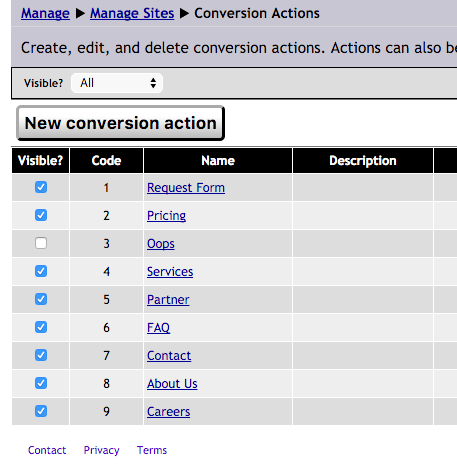 When checking or unchecking the boxes, changes take effect immediately.